Follow Your Favorites!
Sign in
to get custom notifications of new products!

Featured Product
Monarchies of Mau Core Rulebook
by Onyx Path Publishing

Cats have inherited the world, unifying their six fractious monarchies after untold centuries. These cats have been uplifted to use tools and language, and they seek to rediscover the ruins of the Old Ones.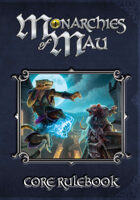 | Products found in this section... | Sort by: |
| --- | --- |
| | | |
| --- | --- | --- |
| Title | Publisher | Price |
| "Be a good dog. Protect your home. Be loyal to those who are true. These are the words of the Code of Man." — Sister Picassa Collie, Shepherd of the Church of Man Dogs have inherited the world, building the kingdom of Pugmire untold centuries after the Ages of Man are over. These dogs have been uplifted to use tools and language, and they seek to rediscover the ruins of... [click here for more] | Onyx Path Publishing | $14.99 |
| "You! You are the ones that must be destroyed in the name of the Monarchies!"  —One-Eyed Molly  A cat living in Pugmire disappears, but neither the police dogs nor the cats of the Cat Quarter know why. When zombies attack the heroes, however, all signs point to an invasion by the Monarchies of Mau. But how does this intrigue tie into the lost tomb of the first king of Pugmire?  "The... [click here for more] | Onyx Path Publishing | $1.99 |
| Before we were six. Now we are one. We differ on many points, but on these we agree: Always trust our instincts, always reward loyalty, and always pounce upon minions of the Unseen. Without these tenets, we are no longer worthy of the adoration of Man.  Monarch Trillani Persian von Mau, deceased Cats have inherited the world, unifying their six fractious monarchies after untold... [click here for more] | Onyx Path Publishing | $14.99 |
| Pan's Guide for New Pioneers When a devastating flood hits Pugmire, all manner of bad dogs, opportunistic rats, and manipulative cats take advantage of the kingdom. Good dogs try to turn the tide, but searching the dangerous wilderness for a way to heal the land is no easy task. If only there existed brave dogs to lay down the way for other intrepid pioneers… It is time for a new... [click here for more] | Onyx Path Publishing | $9.99 |
| "Well that's the excitement of it all, isn't it? Meeting new friends, starting new adventures — what's a better way to live?"  Kayla, Freelance Adventurer  Dive into the world of Pugmire and Monarchies of Mau with this handy compendium. Inside, you'll find everything you need to start an adventure of your own. Some highlights of Roll of Good... [click here for more] | Onyx Path Publishing | $4.99 |
| Adventures for Curious Cats is a collection of three adventures for Monarchies of Mau, ranging from an introductory story, "Murder Most Foul," wherein players unravel a possible conspiracy threatening to undermine the monarchies, to "The Lost Library of Amosen," an eldritch tale of mystery and Unseen abominations, to "A Lizard's Tale," in which players accompany a gecko... [click here for more] | Onyx Path Publishing | $4.99 |
| Before we were six. Now we are one. We differ on many points, but on these we agree: Always trust our instincts, always reward loyalty, and always pounce upon minions of the Unseen. Without these tenets, we are no longer worthy of the adoration of Man.  Monarch Trillani Persian von Mau, deceased  Cats have inherited the world, unifying their six fractious monarchies after untold... [click here for more] | Onyx Path Publishing | $2.99 |
| Be a good dog. Protect your home. Be loyal to those who are true. These are the words of the Code of Man. - Sister Picassa Collie, Shepherd of the Church of Man Dogs have inherited the world, building the kingdom of Pugmire untold centuries after the Ages of Man are over. These dogs have been uplifted to use tools and language, and they seek to rediscover the ruins of the Old Ones.... [click here for more] | Onyx Path Publishing | $6.99 |
| The world is torn asunder in a final gambit to end the war. The war has ended, and the world along with it, but it does not die, nor do those that inhabit it. The ash stirs, and the people begin to pick themselves up. They would rebuild, From the Ashes. New crafting rules to make the party celebrate the talented artisan. Extreme item customization rules. New class archetypes New equipment New races  New... [click here for more] | Silver Games LLC | $29.99 |
| For aeons, ponies, humans, and most other races have gazed up at the stars so high above and wondered what was out there. Now it is time to find out. Break free of the tyrannical grip of gravity and set sail into the yawning void. Two new races The chaos-born Unspoken Spawn evolve themselves with time and practice. Mineralite ponies are curious hybrids with a gem-based species. Dozens of... [click here for more] | Silver Games LLC | $19.99 |